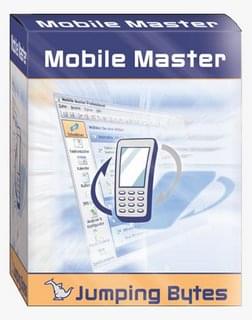 Mobile Master, the easy to use and award winning Cell phone and handset manager for Windows - synchronizes all your data between the handset and your computer.
* One and even zero click synchronization solution for your mobile phone, edit all your phone's data with the computer
* You use e.g. Lotus Notes, Thunderbird or Palm Desktop or ... (see below)? Mobile Master synchronizes all data.
* Backup & restore cell phone: backup your phone's data and restore it easily, even to another phone.
* very easy to use interface
Supported mobile phones and devices:
* Apple iPod: iPod Video, iPod nano
* LG: KE800 Shine, KG800 Chocolate, KG320S
* Motorola: KRZR K1, MotoKRZR K3, RIZR Z3, MotoRAZR V6 maxx, RAZR V3x, RAZR V3r, RAZR V3i, SLVR L7, SLVR L6, W510
* Nokia: Nokia N73, Nokia N70, Nokia E65, Nokia E61i, Nokia E60, Nokia E50, Nokia 6500, Nokia 6300, Nokia 6233, Nokia 6270, Nokia 6280, Nokia 6230, Nokia 6230i, Nokia 6220, Nokia 6210, Nokia 6200, Nokia 6100, Nokia 6310, Nokia 6310i, Nokia 6820, Nokia 6822
* Sony Ericsson: K850i K850 T650i T650 K810i K810 W880i W880 W710i W710 W660i W660 W610i W610 W580i W580 Z710i Z710 Z610i Z610 K800 K800i K800 W910i W910 W900i W900 W850i W850 W810i W810 W800i W800 W700i W700 W550i W550 W500i W500 W300i W300 D750i D750 K750i K750 K700i K700 K610i K610 K600i K600 K510i K510 K500i K500 K300i K300 F500i F500 S700i S700 T610i T610 V800i V800 V600i V600 Z600i Z600 Z550i Z550 Z520i Z520 more...
* Samsung: Samsung SGH-U600, Samsung SGH-P310, Samsung SGH-P300, Samsung SGH-D900, Samsung SGH-D840, Samsung SGH-D830, Samsung SGH-D820, Samsung SGH-D800, Samsung SGH-D600, Samsung SGH-D520, Samsung SGH-D500,
* Samsung SGH-E950, Samsung SGH-E900, Samsung SGH-E850, Samsung SGH-E840, Samsung SGH-E800, Samsung SGH-E770, Samsung SGH-E760, Samsung SGH-E730, Samsung SGH-E720, Samsung SGH-E700, Samsung SGH-E620, Samsung SGH-E610, Samsung SGH-E570, Samsung SGH-E590, Samsung SGH-E530, Samsung SGH-E500, Samsung SGH-E380, Samsung SGH-E370, Samsung SGH-E250, Samsung SGH-X830, Samsung SGH-X820, Samsung SGH-X800, Samsung SGH-X700, Samsung SGH-X670, Samsung SGH-X660, Samsung SGH-X640 more...
* Siemens BenQ: BenQ Siemens EL71, BenQ Siemens E61 , BenQ Siemens S88, BenQ Siemens S68, BenQ Siemens E61 , Siemens S75, Siemens SL75, Siemens CX75, Siemens CF75, Siemens C75, Siemens M75, Siemens ME75, Siemens CX70, Siemens M65, Siemens M56, Siemens S65, Siemens SL65, Siemens SK65, Siemens CX65, Siemens S56, Siemens S55, Siemens M55, Siemens SL55 more...
* New Features:
o reorganized the quickstart (home) area, new icons
o Now suppoerted: Samsung SGH-G600, SGH-F500, SGH-F210
o Phone explorer:
+ now working with Nokia phones when connected as modem (PC Suite mode)
+ improved speed in Phone mode with Sony Ericsson phones
+ copying of subfolders now working
+ fixed problem with special files (e.g. java settings)
o Mobile Master Agent:
+ now the Nokia phones are detected
+ now the corresponding profile is selected automatically for the detected phone
+ configuration is done automatically
+ fixed some minor issues
o improved printing
o added drag&drop for contact files (Windows contact on Vista and with Windows Live Mail)
o added support for the contacts of Windows Live Mail
o done changes for Mozilla Lightning 0.7
o added support for Google calendars that are not hosted by google (e.g. hosted on an own server)
o added the fields for business county and region to the field settings
* Fixed bugs/solved problems:
o Nokia devices:
+ S40 devices: fixed problem with the calendar synchronisation (double entries in the phone appeared)
+ fixed bug modifying e.g. the 1st mobile phone number while there were more than one mobile phone number stored in the phone: always the last mobile phone number was modified
+ fixed crash writing modified contactrs to S40 devices (e.g. 6230)
o finally fixed a bug access the Google calendar (no calendar was listed in the config dialog)
o fixed bug copying files (e.g. photos) from the phone (Obex error 0x00)
o fixed bug creating backup manually (dialog was closed automatically)
o fixed bug calendar sync:
+ recurring appointments written to an ics file could not be read by Mozilla Lightning, Sunbird
+ some monthly appointments were stored as yearly appointments in Mozilla Lightning, Sunbird, Google calendar
o new tasks from the phone were stored in the calendar in Outlook
o Synchronising photos, videos and files: done tests and fixed some problems (e.g. with the Sony Ericsson W910)
o fixed bug: sometimes new contacts in Outlook were added without numbers and last name as a number
o fixed bug: time of messages send with Mobile Master and Nokia phones was wrong
o fixed problem writing contacts with pictures to the Motorola K3 (and others)
o Copy station: after finding a phone via Bluetooth loading of data did not work
o searching the backups did not work after cancelling a connection to a phone
o fixed problem sending bookmarks to the Sony Ericsson W910 , K850 and others
o fixed bug writing contacts with an ö to the SIM phone book
o fixed problem with Nokia N70 and the time offset
o SMS Servant: sending of long SMS did not work properly
o fixed bug: not all recurring appointments from Lotus Notes were synced to the phone
o fixed bug decoding SMS from Samsung phones
o Siemens devices: fixed bug with ;;;;; in the address
What's new in v Version 7.2.5 Build 2983:
New Features:
- News: Mobile Master now displays infos about new versions automatically (configurable)
Fixed bugs/solved problems:
- Fixed problems with installation of the addins for Thunderbird and Palm Desktop if no user has not yet created (in Palm - Desktop, Thundebird)
- Sync with Groupwise: the birthday of contacts is no longer synchronize because accesing the birthdays in Groupwise is working (properly).
Download link:
Code:
http://rapidshare.com/files/140054144/Mobile_Master_Corporate_7.2.5_Build_2983.rar